Avenger
(Angels)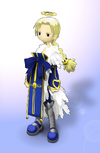 Base Stats/Aptitude%

HP

SP

ATK

DEF

20
100%

13
100%

15
100%

11
100%

INT

SPD

HIT

RES

14
100%

13
100%

13
100%

16
110%

MV

CTR

JM

THR

6

2

19

5
Weapon Mastery

Fist

Sword

Spear

C

A

A
| | | | |
| --- | --- | --- | --- |
| Bow | Gun | Axe | Staff |
| A | E | B | A |
Unlocked By:
Angel, Angel Cadet, Angel Soldier or Crusader reaches level 100
| | | |
| --- | --- | --- |
| " | Believe in absolute righteousness, eliminate all who oppose | " |
Angels excel in all Aptitudes with no flaws. They are strong, good with both attacking magic and healing magic. Angels are competent with five of the seven Weapon Masteries. They are great with Swords, Spears, Bows and Staves (Staff). And they aren't bad with Axes either.

Unlock rights:
Angels

☆ Can unlock a Paladin when Avenger reaches level 200
Disgaea: Hour of Darkness Wikia thrives to be mobile-friendly!
Ad blocker interference detected!
Wikia is a free-to-use site that makes money from advertising. We have a modified experience for viewers using ad blockers

Wikia is not accessible if you've made further modifications. Remove the custom ad blocker rule(s) and the page will load as expected.